BISHOP JACK WISOR HARRISBURG PRESS CONFERENCE
2016 HUNGER AND HOMELESSNESS AWARENESS WEEK
Bishop Jack Wisor, God's messenger who not only speaks the truth but lives it daily as well, is going to return to the Pennsylvania State Capitol Rotunda on Tuesday, November 15, 2016 at 10:00 A.M. This modern day Paul will bring a life-changing message to the capitol once again as he highlights the truth of this world's failures in following Matthew 25:31-46. He is inviting you and urging you to attend this very powerful press conference.
Some of the messages and truths that Bishop Wisor intends to share with his audience include:
Homelessness is hard but can be cured. The new definition of homelessness is hopelessness. Hopelessness is cruel and can only be cured by the love of Christ.
Hunger and homelessness in our country and in the world could be solved if the church – the true church of Jesus Christ – pulled together and made it all important.
Every elected official in our state and country is responsible for homelessness and hopelessness, as a result of the oath of office that they have taken. Most of our elected officials do not have a clue what their oath of office truly means or what accountability it places on that elected official.
The Pennsylvania House of Representatives, via HR 550 of 2014, authorized the formation of a Homeless Task Force and Advisory Council. Two years later, a massive report was issued. While the report was being developed, homelessness increased in Pennsylvania. The report truly offered no solutions – just a lot of words. Old and outdated reports and statistics were used and in many cases, statistics and case studies from outside of Pennsylvania, when Pennsylvania data and reports were available. And we are still in awe that Bishop Wisor's input was never solicited – after he was asked to serve on the Homelessness Task Force – considering he oversees the largest faith based homeless ministry in Pennsylvania.
The crucial role that Bishop Wisor played in a recent court case in Union County where a mentally-challenged inmate who served time for a sexually-based offense was repeatedly re-sentenced to prison on the premise that he had no approved home plan – nowhere to live – when Bishop Wisor had agreed to provide him a home at the Just for Jesus Ministry. A state Superior Court ruling overturning the county court's decision actually referenced Bishop Wisor and the ministry in its ruling, as being willing to provide a home for the inmate in question.
7 ½ years after taking in his first Megan's Law Offender, Bishop Wisor has now provided a home to over 240 former sexual offenders – and the recidivism rate is 0%. Not a single former offender has committed a sexually-based offense while living as a guest at the Just for Jesus Ministry. No one in the state or country for that matter has documented such an incredible success rate.
As a result of his experiences and what God has taught him in working with the sex offenders, Bishop Wisor has published a recent book: STOP! Sex Crimes – A Warning From Behind the Cross. Bishop Wisor will introduce this at the press conference and will provide information on how to obtain copies.
Bishop Wisor has published several other recent books, including:
Battling a Life of Pseudo-Depression
Battling a Life of Pseudo-Anxiety
The utter destruction being waged on so many people today by psychiatry and the three billion dollar psychotropic drug industry. Medicine, when used to truly improve the quality of a person's life, is a gift from God, Bishop Wisor will tell you. But when drugs turn you into someone you do not recognize – someone who is not you – that is just evil and robs someone of their ability to seek their God and become the person God created them to be.
Bishop Wisor has formed the Pennsylvania State Chapter of CAPA – Christians Against Psychiatric Abuse – and what Bishop Wisor is doing to educate people about psychiatric abuses in our state and country.
Long before Hillary Clinton and Donald Trump made news with it, Bishop Wisor has been educating people about the travesty being wrought on our veterans. That over 100 thousand veterans have committed suicide or died in their sleep from psychotropic drugs since 9/11.
With tough times coming and the need for skills to survive, Bishop Wisor has greatly expanded the farming and animal raising operations of the ministry, to provide life skills training for many guests while providing for the future food needs of the ministry. He may speak about the increased efforts at hay harvesting, silage making and other processes he has put in place.
Bishop Wisor has been given a unique opportunity to experience a former state institution for feeble-minded women in a way that no one ever has before. The history and the stories that he has learned make it clear why this was "Pennsylvania's Dirty Little Secret". He may share at the conference some of what he has learned.
Please come and hear what this messenger of God has to share with you, teach you and open your eyes to. He will gladly take questions after his remarks are concluded.
~END~
Bishop Wisor has been providing the state's largest faith based homeless ministry for 17 years, providing a home, food, clothing, trade opportunities and rehabilitation – spiritual, physical, mental, emotional and constructive – for nearly 1700 guests from all walks of life who find themselves homeless and hopeless.
Press Releases Issued by Bishop Jack Wisor / Just for Jesus Challenge Homeless Outreach Ministry
2013
November 20, 2013
Bishop Wisor Asks – Who Is Really To Blame?
What do the 1950's, insane asylums, severely overcrowded prisons, mental health and psych units bursting at their seams and epidemic homelessness in Pennsylvania all have in common? Is there a connection? Is anyone responsible? Who is really to blame?
If those questions intrigue you and pique your curiosity, come listen to the man who can connect all the dots for you; the man who has been given the answers through the divine anointing on his life. Bishop Jack Wisor, THE SOLUTION, is returning to Harrisburg to speak at the Capitol on Wednesday, November 20th from Noon until 1:00 pm.
Bishop Wisor has timed his long-awaited return to coincide with the observance of National Hunger and Homelessness Awareness Week. Who could possibly be more appropriate to speak – and with authority and experience – on the subject of homelessness in Pennsylvania than the minister who heads up the largest faith based homeless ministry in this state?
Bishop Wisor is the founding minister of the First Apostles' Doctrine Church of Brockway and Brookville and the founder and president of the Just for Jesus Challenge Homeless Outreach Ministry, the largest faith-based homeless ministry in Pennsylvania.
Now providing a home to an average of 70-80 men, women and families every night, Bishop Wisor has provided a home to over 1150 guests in the first eleven years of the ministry. Since giving over his personal home in 2003 and being obedient to the call that God placed on his life, Bishop Wisor turns no one away. He has staunchly proclaimed that the church is and must be a refuge and sanctuary for all in need, including the homeless and the poor. The doors must remain open 24/7 and accept all, regardless of who they are, what they have done or where they have come from.
In becoming the voice for those in this state who have no voice – the least of these – the very people that Jesus would be spending his time with if He were here today in the flesh – Bishop Wisor has faced more than his share of opposition from the local community and local and state government leaders. Some of those with prime offices in the Capitol where he will be speaking have tried the hardest with many maneuvers to derail his efforts, close the ministry and shut down what he is doing for all – including former inmates, former felons, former sex offenders and actually, anyone who is homeless and is an outcast from today's society. We wonder if they have finally figured out that the harder they try to crush what Bishop Wisor is doing, the stronger he gets and the ministry continues to grow by leaps and bounds. They don't have the solution, but they are willing to destroy THE SOLUTION. God will not be mocked!
Bishop Wisor will also be speaking about one of his newest initiatives, establishing only the second satellite operation in Pennsylvania under license with KIDS AGAINST HUNGER , the international organization whose goal is to eliminate the starvation and effects of starvation that kill between 18,000-25,000 children each day worldwide – one every 5 seconds. Guests of the ministry will be involved daily in packaging food to be sent around the United States and overseas – and then eventually following that food to make sure it ends up in the mouths of the children who truly need it.
Bishop Wisor has been presented with an incredible opportunity that could literally be THE SOLUTION for the homeless in this state, the inmates and offenders who have nowhere to go and no one to want them and for the lunatics who have been missing and absent from our sight. Come listen and learn as Bishop Wisor teaches you what no one else has spoken – because no one else has been shown the vision or given the divine understanding.
Come hear the man who has been called "the tip of the spear", "the light on the hill" and "the voice of this state". Come hear THE SOLUTION and become part of the solution, as Bishop Wisor heralds this cry: "Churches, turn your lights on….they're coming!
~END~
2012
December 16, 2012
For Immediate Release
Brockway – Brookville – All of Pennsylvania: I Have Your Back
Today, as every day, I protected Brockway, Brookville and all of Pennsylvania. To the residents of the surrounding areas and all of the state, I continue to have your back when no one else does. Because I am constantly aware of what is taking place in this state regarding the homeless and special classes of the homeless, like released inmates and Megan Law offenders, I am able to key in on things that no one else is paying attention to or cares about.
I care. I care about you. I care about your children. I care about our communities. I care about the rights of the homeless and the offenders when they act lawfully and responsible. And I care about holding people accountable who are homeless, offender or not, when they act irresponsibly and unlawfully.
Today, I alerted the Pennsylvania State Police and the Megan Law Unit of the State Police of a Megan Law offender who claimed he was living at Just for Jesus and was listed as such on the Megan Law website. He does not reside at the ministry and never has. He has not contacted me seeking a place to live.
The long and short of it is that he improperly used me and the ministry as an address when he should not have. In reporting this to the state police, it was discovered that the 48 hours he has to register with the State Police had passed and he was now in violation of the law.
Today was at least the third time in the last two and half years that I have alerted the State Police of someone falsely claiming that they were residing at the ministry and as a result, were in violation of their lawful obligation to register with the State Police within 48 hours. I had your back each of those other times and I had it again today.
I was assured today that a warrant was going to be issued for his detainment. Sometime soon, he will hopefully be back in custody which is where he belongs because he chose to not abide by their lawful responsibilities and obligations. I had your back again today. And I will continue to until I take my last breath.
The Just for Jesus Challenge Homeless Outreach Ministry and myself, as its president and founder, have come under frequent attack because it has grown into the largest faith based homeless ministry in Pennsylvania.
It has come under attack because under my oath with God to fulfill the Gospel of Jesus Christ, I cannot and will not turn anyone away who is in need of a home or any other assistance that I can provide. Many of the homeless who I accept are people that neighboring communities feel should not be in Brockway or Brookville (or anywhere for that matter). It is the NIMBY curse – Not In My Back Yard. For the church to reject "the least of these" is just vomit. The true church is not entitled to NIMBY – Jesus said everyone is our neighbor.
It has come under attack because I accept Megan Law and sexual offenders and in fact, I provide a home to more of them than anyone else in the state because no one else will accept a Megan Law offender unless they have hundreds of dollars a month to pay in rent. I accept them because they need a home and are otherwise in need.
At the same time, I have established extensive guidelines for the Megan Law and sexual offenders who reside at Just for Jesus that have become a model that the Commonwealth of Pennsylvania is extremely interested in because it knows that I hold the solution to the massive problem of homelessness and especially that of offenders and Megan Law offenders. However, the Commonwealth cannot do anything about it because the solution is the church, this ministry, the guidelines that God has given me to establish and the government could never implement the guidelines of a faith based ministry even if it had the money or the desire to fix the problem.
The guidelines I have established ask the offenders to voluntarily choose to do more than what is required by the government, the State Police or Probation and Parole. They participate in 12 step programs several times a week. They are not allowed anywhere in the community without an escort. Their whereabouts are known at all times while they are at the ministry. They are not allowed at school events or at the public library or other places in town where children frequent. These are all things they agree to do even though they don't have to….but they do if they want to reside at Just for Jesus.
As a result, I protect the community day in and day out by having these stringent guidelines in place – holding the offenders to a much higher level of accountability than if they were living on their own or at some other program.
So, the next time you hear or read about me or the Just for Jesus Ministry bringing all "those people" into a church and faith based ministry, just remember who really has your back.
-END
For Immediate Release: December 7, 2012
Bishop Wisor Welcomes 1000th Guest at Just for Jesus
Since heeding the voice of God and turning his home over to the homeless in 2003, Bishop Jack Wisor has now welcomed 1000 "guests" from every imaginable and unimaginable circumstance arrive at the doors of the Just for Jesus ministry in Brockway and Brookville. It began with his first guest, Steve, a product of Hell's Angels, who admitted to being responsible for men not walking or talking any longer. But when asked to kill, Steve knew it was time to get out. Bishop Wisor talks to this day about never seeing a man cry so uncontrollably as Steve did at thealtar that day when he surrendered his heart, mind and life to Jesus Christ.
Shown below is Bishop Jack Wisor welcoming "Mike" to Just for Jesus. Mike is Bishop Wisor's 1000th guest.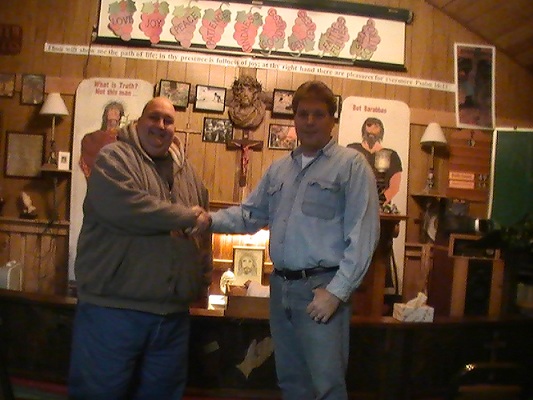 The names and faces of the homeless who have shown up at Just for Jesus to become guests of Bishop Wisor are the familiar and the unknown. Family members who are no longer wanted by anyone in their families. Friends who have worn out their welcome in someone's home or apartment. Veterans of our military whose lives are torn and tattered and who can find nowhere to call their home. Ministers in the local area who drop their children, grandchildren and great grandchildren off at Bishop Wisor's doorstep because they no longer want to or know how to care for their own offspring.
People from down the street and across the state. Families with children. Sometimes fathers or mothers with children. People not being able to afford rent or mortgages. Evicted or foreclosed upon. People who have received treatment and care in area hospitals, mental health clinics and other social service agencies and now have nowhere to go when ready for release. Inmates in county jails and state prisons with nowhere to go when they are released. People passing through the Brockway and Brookville area in need of shelter, food and perhaps a shower and clean clothes.
The common denominator is that they are all homeless and in need of a place to live until they get on their feet and decide what they want to do with their life at that moment and for the rest of their time on earth. Bishop Wisor gives them a safe, comfortable place to live, makes sure they are fed and clothed and shares the Word of God with them – allowing the Word to work on them, always hoping that they will recognize the need to accept Jesus Christ as their Lord and Savior.
Bishop Jack Wisor is the president and founding minister of the First Apostles' Doctrine Church and the president and founder of the Just for Jesus Challenge Homeless Outreach Ministry, the First Apostles' Doctrine Church mission field. Just for Jesus has grown into the largest faith based homeless ministry in Pennsylvania, now averaging between 65-70 people DAILY at its two outreaches in Brockway and Brookville, including families and children. Just for Jesus is completely supported by private donations from individuals, businesses, churches and other ministries.
Because Bishop Wisor accepts no governmental funding, he is able to welcome EVERYONE as a guest, regardless of who they are, what they have done, how many other agencies they may have received help from or how many bridges they may have burned. There is no time limit on how long a guest may remain at Just for Jesus, unlike the time limits in place at other homeless shelters, because of stipulations in their funding grants or contracts. Bishop Wisor knows that it takes approximately 6 months for someone who is mentally, emotionally, spiritually or physically damaged to begin the true process of rehabilitation and to allow the Word of God and the Love of Christ permeate their minds and hearts. Limiting someone to 30, 45 or 60 days like homeless shelters provide is nothing more than a band aid before moving someone out on the street again with no healing taking place in their life.
Because his oath with God is to keep the doors of the church and ministry open 24/7, 365 days a year to ANYONE in need, Bishop Wisor has become the magnet for all those in this state who others will not touch, care for or provide a home for. This includes Megan Law and sexual offenders. Bishop Wisor provides the only ministry in the state which will provide a home and mental, emotional, spiritual and physical rehabilitation for these "modern day lepers", who are not only capable of rehabilitation but worthy of an opportunity for it, through the Word of God and the Love of Jesus Christ, their Lord and Savior.
There may be one or two other programs that will provide a bed for a Megan law offender who can pay several hundred dollars a month and who has a regular source of income. Bishop Wisor knows that it is NOT about the money and that is why he averages 25 Megan Law and sexual offenders in Brockway at any given time. No one else in the state will do what he is doing because he has been called and anointed by God to do what he is doing. Others will not and cannot do what Bishop Wisor does, because they are not called and anointed to do so. There is a huge difference between a program, an agency and a ministry that has been divinely ordained. That is the difference between Bishop Jack Wisor, Just for Jesus and all the rest.
Bishop Wisor's mentor and long-time friend, Rev. Richard Moyer, commented to Bishop Wisor when Bishop first told him years ago about God's desire for him to turn his home over to the homeless – "Jack, I've lived here most of my life and I've never seen homeless people in Brockway." Bishop Wisor told Rev. Moyer that he knew what God wanted him to do. Thank God that Bishop Wisor listened to what God was telling him to do. Rev. Moyer is undoubtedly smiling in heaven knowing that 1000 guests have been welcomed at Just for Jesus – in Brockway, the town without any homeless!
-END
News Release – July 17, 2012
Bishop Jack Wisor to Speak on Capitol Steps July 30, 2012!
On Monday, July 30, 2012, Bishop Jack Wisor, Director of the Just For Jesus Challenge Outreach Homeless Ministry, will speak on the steps of the Capitol Building in Harrisburg at 1pm. He will address various issues including the recent passing of Senate Bill 100, The Criminal Justice Reform Act. This bill addresses the state wide problem of prison overcrowding recidivism and reducing the high cost of incarceration. One of the major outcomes of the bill is that offenders now will be released from the prison system and sent to community correction centers and faith based ministries. Bishop Wisor and the Just For Jesus Ministry, have been providing spiritual guidance and housing for former prisoners for many years at their two homeless outreaches in Brockway and Brookville, Pa. In his address on the Capitol steps, Bishop Wisor will talk about his experience in this area and encourage churches to open their doors to serve the poor, needy and former inmates within the state of Pennsylvania.

In addition, on July 31, Bishop Wisor has accepted an invitation to attend a conference in Philadelphia on community reentry programs for former inmates. Senator Greenleaf has invited leaders from across the state to provide input into how local organizations can become involved in helping former inmates reenter society after incarceration. Bishop Wisor will be in attendance, and hopes to share how he and his ministry, have helped hundreds of former inmates become productive members of society.
News Release – March 15, 2012
Bishop Jack Wisor Rescues Marcellus Shale Victims
Bishop Jack Wisor is exposing the newest face of homelessness in Pennsylvania – victims of Marcellus Shale. In this case, a Puerto Rican family of 5, mom, dad, 3 daughters aged 6, 10 and 15 who were deserted and stranded in Roulette, Potter County. Dad was promised a good job working at a Marcellus Shale drill site only to be denied that job after he put himself and his family on a plane from Puerto Rico to Pennsylvania.
With only their luggage and the handicap of speaking no English – this family was left with no where to go or any way to shelter and feed themselves. A woman involved with providing housing for Marcellus Shale workers who spoke little English of her own contacted Bishop Jack Wisor desperately seeking help for this family. Bishop Wisor sent two vehicles and drivers to rescue this family – from Wal-Mart in St. Marys, where the family was dropped off by a large work van driven by other workers.
This all happened in the home district of State Senator Joe Scarnati, champion of the Marcellus Shale legislation. Senator Scarnati has certainly not taken into account or addressed anything in his legislation about how the state is going to handle all kinds of workers being brought into Pennsylvania from outside the state, in this case, from outside the continental U.S.
Clearly the state is not doing anything about it. Neither are local authorities or social service agencies – at least not in this case. Bishop Jack Wisor and Just for Jesus – consistently attacked by Senator Scarnati and a handful of others in the Brockway area – is the first and often last resort for what happens when people are thrown away – just like this family was.
Bishop Wisor and Just for Jesus are readily used by state, county and local officials and all types of health, social service and mental health agencies. But where are they when the attacks come? Everyone that is quick to use Bishop Wisor and Just for Jesus because Bishop Wisor will accept anyone for any reason, because that is his oath with God, need to be willing to stand up and speak up that what Bishop Wisor is doing is the right thing and is greatly needed.
Thanks to Bishop Wisor, this family now has a place to live and food to eat. Thanks to Bishop Wisor, they have been connected with the Brookville Area School District and the homeless liaison, where the high school principal and Spanish teacher have been very helpful and the children are now enrolled in school.Thanks to Bishop Wisor, the family has been connected with the County Assistance Office and Community Action to assure that they receive help with all governmental resources to which they are entitled. And the guests at the Brookville Just for Jesus house have welcomed them, have helped them become acclimated and made them feel loved and accepted after they were dropped in the cold, knowing no one in this state far from home.
While Senator Scarnati and other political leaders in this state make it easy for gas companies and drilling firms to operate in Marcellus Shale territory – and to reap huge profits – Bishop Wisor is now showing your first hand some of the collateral damage from what Senator Scarnati and other leaders have created – what those companies are being allowed to do – creating victims that are part of the new face of homelessness and will now place an even larger strain on public and private resources in the Commonwealth – which would be even greater and more critical if it were not for Bishop Jack Wisor and the Just for Jesus Ministry.
+++++++++++++++++++++++++++++++++++++++++++++++++++++++++++++++++++++++++++++++++++++++++++++++++++++++++++++++++++
News Release – March 12, 2012
Bishop Wisor Convinces State Police and Governor's Office To Change Procedures for Megan Law Offender Registration
Bishop Jack Wisor, president and founder of the Just for Jesus Challenge Homeless Outreach Ministry, the largest faith-based homeless ministry in Pennsylvania, headquartered in Brockway, today announced that he had been notified by the Megan Law Division of the Pennsylvania State Police in Harrisburg that the State Police and the Governor's Office have decided to change their application of a new law that radically changed how Megan Law Offenders living at the ministry must register with the State Police.
The 20-some guests living at the Just for Jesus Ministry in Brockway who are Megan Law Offenders were notified in February that they would no longer be treated as residents of the ministry because the new law required that all offenders living in homeless shelters must register as transients and not as individuals with permanent addresses.
As a result of a letter that Bishop Wisor sent to the State Police and the Governor's Office, with the help and counsel of attorneys who practice in the federal courts arena, the State Police have determined that anyone who chooses to become a guest at Just for Jesus may be treated as a resident with a permanent address and as such, does not need to register monthly and more importantly, does not need to register as a transient.
Bishop Wisor is very pleased with this decision because it clearly reflects the ongoing efforts that he has undertaken to protect and educate the residents of Brockway and surrounding communities. The new procedures put in place by the State Police in February resulted in Megan Law Offenders being labeled as "transients" - and thereby becoming almost invisible on the State Police Megan Law website. With the reversal of this decision by the State Police and the Governor's Office, the residents of Brockway and surrounding areas once again can have peace of mind and an assurance that they know where Megan Law Offenders can be found, as long as they are living at Just for Jesus. Unfortunately, those living in other shelters may still remain invisible to the community.
Bishop Wisor has repeatedly told the community that he is sincerely concerned for its welfare and his efforts to have the application of this new law reversed are a clear indication of his care and concern for all.
Bishop Wisor is also working tirelessly to help the offenders living at Just for Jesus to find places to live in their hometown areas and in particular, has been imploring churches in those areas to open their doors and care for the homeless and offenders as the Gospel of Jesus Christ instructs that we, as the church, are to do. There need to be Just for Jesus outreaches all over Pennsylvania to provide a refuge and sanctuary for the homeless - including but surely not limited to former inmates and offenders.